1F Experience center
Tokyo earthquake simulation seventy-two hour tour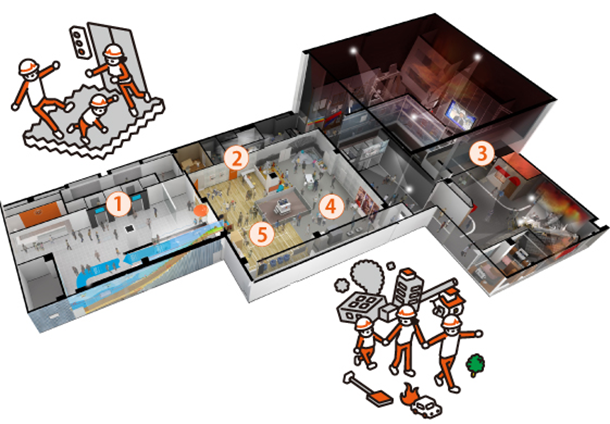 How would you survive for seventy-two hours?

It is said that organized rescue efforts are usually performed seventy-two hours after anearthquake occurs. So, how would you surviveduring those seventy-two hours when rescue is difficult? This tour allows you to experience the flow of events starting with the development of
1

Outbreak of the disaster

An earthquake measuring upper 6 on the Japan Meteorological Agency seismic intensity scale hits while you are descending in an elevator at a train station building. The floor shakes and the elevator screeches to an emergency stop.

2

Escape

After getting out of the elevator, you walk down a dim maintenance corridor with no electricity. Visitors to the facility follow evacuation lights and broadcasted emergency guidance in search of the exit.

3

Simulation of a damage-stricken urban area

In a diorama where you experience repeated aftershocks through sound, lighting, and imagery, you will make your way to an evacuation area while asking a quiz with portable game machine. At the Cinema Station, you will experience a simulation of an earthquake centered under Tokyo through computer generated imagery.

4

The evacuation site

You've escaped the dangerous urban area and have reached a safe evacuation site. While viewing a display of disaster relief storehouses and tents, you will learn how to survive during emergency situations. You will also be notified of quiz results.
Headquarters building